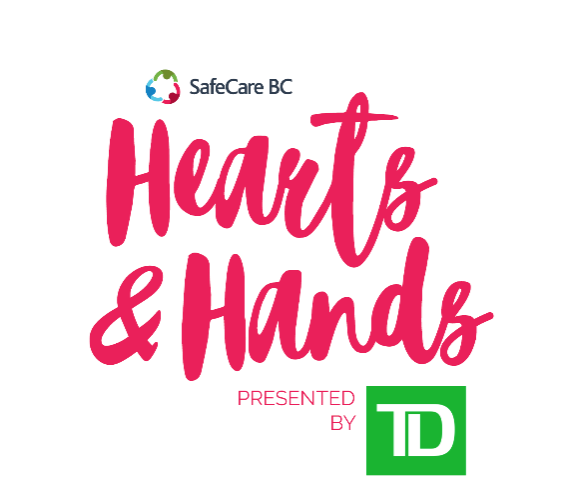 Registration for the sixth annual Hearts and Hands conference presented by TD is now open. This FREE virtual event takes place between October 18-22. With daily activities, education sessions, and over 120 prizes to be won, this is one event you don't want to miss.
Like last year, this year's event will be a virtual one from October 18-22. Registration is FREE and since there is no limit on the number of participants, we want to extend the invitation for healthcare assistants and other health professionals from across the country to participate. Registration is required at www.heartsandhands.ca and you can find more information on the program at www.safecarebc.ca/heartsandhands
The event has three goals—celebrate, educate, and inspire—and we have created a program of short education sessions, fun, interactive activities, including scavenger hunts and a daily discussion board, and tribute message to thank and acknowledge the work of healthcare assistants.
Each day, new content will come available and participants can participate on their phone, tablet, laptop, or desktop at a time that is convenient for them. If you missed a previous day's content, you can go back and access it at any time.
Click to watch a video message from SafeCare BC's Director of Communications and Member Services, Ken Donohue.
Here's how you can join the fun:
Head on over to www.heartsandhands.ca and register for free. If you participated last year, you will have to register again.
Bookmark the page or create a shortcut icon on your phone or tablet, because that's how you will interact with the event activities.
The event will kick off on October 18—Healthcare Assistant Day—and conclude on October 22.
Remember, this is the un-conference. You choose the time that is convenient to participate. And you can participate in as many activities as you like.
If you're a keener and want to participate in all the activities, it would take less than an hour each day.
Use your smartphone (Android or iPhone), tablet, or computer to access the digital event.
You can participate from anywhere in the province—unless you're at the top of a mountain or in the woods with no WiFi access.
Each day of the week will bring new activities, including daily presentations from our emcee, Brenda Robinson.
There will be two live sessions this year. But don't worry if you miss them, recordings will be available shortly after the live sessions end.
Your participation earns you points. Your points can earn you prizes.
Did we mention that it's free to participate?
Spread the word by sharing this poster!