Workplace wellness and nutrition – let's all make the healthy decision!
Healthy and safe workplaces start with healthy workers. The World Health Organization (W.H.O.) offers a simple definition of health as "a state of complete physical, mental, and social well-being, and not merely the absence of disease or infirmity".
According the Canadian Centre for Occupational Health and Safety (CCOHS), There is a strong connection between the health and well being of people and their work environments. When people feel valued, respected and satisfied in their jobs and work in safe, healthy environments, they are more likely to be more productive and committed to their work.
Employers should take time to develop workplace health strategies and ensure that all members of the organization has access to the tools and resources necessary for maintaining health and wellness in the workplace. Effective workplace health and well-being programs are tailored based on the unique needs of the workplace. Check out these common elements or area of focus that your workplace may want to take into consideration when formulating your wellness programs.
The following websites/resources provide helpful information to help your organization learn more about workplace wellness:
Many Canadians want to make a positive contribution to their health and well-being. A good way to start is to make food and activity choices based on balance and moderation, and to handle food with safety in mind. We can eat very well, given the variety, safety, and wide availability of our foods today.
The Food for Health exhibition and website from the Canada Agriculture and Food Museum takes a fresh look at the foods we eat and answers many of the questions Canadians have about their food choices, about food safety and about the role food plays in ensuring good health.
Food Safety affects every Canadian and we all have a responsibility to ensure we do our part to prevent food borne illnesses from spreading in our communities.  What is "food safety"? Food Safety refers to handling, preparing and storing food in a way to best reduce the risk individuals becoming sick from food borne illnesses. Follow four rules of safety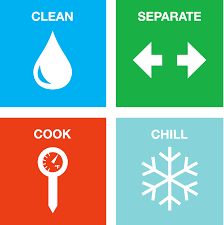 Clean — Wash hands and surfaces often.
Separate — Don't cross-contaminate.
Cook — Cook to the right temperature.
Chill — Refrigerate promptly.
For more food safe tips and information check out the Government of Canada website. 
Food Borne Illnesses & Outbreak
Every year, more than 4 million Canadians get food poisoning, also known as "food borne illness." Protect yourself by learning about food poisoning, its symptoms and treatments, and how to avoid getting sick in the first place.
Over 11,500 hospitalizations and 240 deaths occur each year due to food-related illnesses.
Most types of food poisoning cause one or more of the following signs and symptoms:
Nausea
Vomiting
Watery or bloody diarrhea
Abdominal pain and cramps
Fever
Most people fully recover, but foodborne illnesses can result in chronic health problems in up to 3% of cases, including chronic arthritis and kidney failure.  Always follow the 4 rules: Clean, Separate, Cook and Chill!
For more information checkout Canada's Food Inspection Agency (CFIA) website.